The last 310 bears being kept at bile farms across Vietnam will soon be free, thanks to a 28-year initiative driven by the Animals Asia team.
Officially established in 1998, Animals Asia campaigns for improved conditions and rights for various species across Asia. It operates award-winning sanctuaries in Vietnam and China (and is the only organization with a bear sanctuary in the latter).
These sanctuaries are home to hundreds of bears who were rescued from the bile trade.
What is bile farming?
In order to extract bile from their gallbladders, bears are subject to invasive, painful procedures. The bile, thought to have healing properties, is used in traditional Chinese medicine. It also appears in some household products like shampoo and toothpaste.
Demand for bile products comes predominantly from Asia, but such items are also found in Australia, Canada, and the US.
According to Animals Asia, the "cruel" trade is a source of "extreme suffering" for thousands of bears across the world's largest and most populous continent.
One of the most "humane" bile extraction methods involves creating a permanent open passage in the animals' gallbladder via their abdomen. The surgery – rarely performed by a veterinarian – often results in infections, many of which become fatal.
The way the animals are housed is similarly disturbing, the charity says. Bears are permanently kept in metal cages; many are so small that bears are left unable to turn around or stand on all fours.
Some bears are caged as cubs, and held captive for up to 30 years.
Rescuing bears from bile farms
Animals Asia has rescued 640 bears from the trade to date. With its bear rescue center in Tam Dao, Vietnam, approaching capacity, the nonprofit has announced a new sanctuary that will take in all of the remaining farmed bears in Vietnam.
The 12-hectare sanctuary, situated in the mountainous surroundings of the Bach Ma National Park, will be unveiled tomorrow (May 27). And when all farmed bears in Vietnam are freed and released into the sanctuary, the country's bear bile trade will officially be history.
"This is a proud moment for humanity, Animals Asia, Vietnam, and our supporters around the
world", commented Animals Asia founder and CEO Jill Robinson. "Together, in collaboration with the Vietnam government, we bring about this milestone in protecting wildlife across the country."
In 2017, Animals Asia signed a Memorandum of Understanding (MOU) with the Vietnamese government, committing to the closure of all bear farms in Vietnam.
The MOU outlined an agreement between the two parties, which would see them working together to free the then-1,000 animals who were still in the industry.
Speaking on the new sanctuary, Robinson added: "Today we show that courage, empathy, tenacity, and determination have brought about significant change, as we step up and demonstrate the way forward in helping to save the world's vulnerable species."
Celebrity support
A wealth of high-profile names have thrown their support behind Animals Asia and its efforts, including Dame Judi Dench, Alan Cumming, Stephen Fry, James Cromwell, Slash, Kesha, and Peter Egan.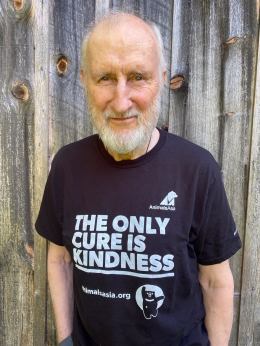 Actors Tara Buck (True Blood), Torrey DeVitto (The Vampire Diaries, Chicago Med), and Marina Squerciati (Chicago P.D) are all in Vietnam to celebrate the unveiling of the sanctuary. They're joined by television personality Josh Packham (Love Island), photographer Katarina
Benzova, and actor Tang Thanh Ha (Mỹ Nhân Kế).
In a video seen by Plant Based News, Ricky Gervais (who just donated £142,414.47 to Animals Asia), asked the public to "stand by them in this mission" and "raise their paw for the moon bear."
Dr. Jane Goodall offered her "warm congratulations" to the nonprofit. "Animals Asia is ending bear bile farming in Vietnam," she said. "To protect these beautiful moon bears, please help Animals Asia build this last bear sanctuary and make sure that in Vietnam, there will be no bear left behind."